In today's fight to get more local consumers through your doors, it's important to use marketing techniques that are currently working today. It's no surprise that consumers are flocking to the internet to get information on products, services, and businesses they have an interest in. While online marketing consists of many different strategies and tools, video marketing is one of the most effective ways to meet your goals.
This is because people today simply love watching online videos. In fact, many people prefer to watch videos than reading text, which means companies today have to do everything within their power to implement online videos into their marketing mix.
However, many small businesses are not using online videos due to the fact that they think it requires a budget outside of their means, which is not the case. Not only that, but many of them are unaware of how to go about getting videos created that will increase leads and ultimately, sales. No matter how large or small, any business can create compelling marketing videos targeted to their audience. There is no longer a need to invest in expensive media production companies to effectively create professional videos.
There are many video marketing specialists available who can create multiple videos for your business, as well as distribute those videos, for just a fraction of the cost you may be funneling into more expensive, traditional advertising methods. If you're still uncertain if video marketing is the right option for you and your business, this report will cover why you should consider using online videos to get more eyes on your company and convert more of your website visitors into paying customers.
Use Video Marketing:  Videos Bring More Exposure and Brand Awareness Videos are more likely to be remembered than any other form of content online. When you create interesting videos, you have the potential for masses of people to see your products and services, and at the same time, remember your brand and your services and products.
Over a billion videos are watched online daily and those who watch them are more likely to clearly remember the company's brand. Use Video Marketing:  Videos Increase Traffic to Your Business Website Companies who have videos on their websites have experienced increased traffic to their websites on a regular basis. That's because videos are great for capturing and holding attention. Not only that, but if you have online videos posted in numerous places online, such as social media sites and video sharing sites, those visitors are likely to visit your website for more information if they found your videos helpful and/or entertaining.
Video Marketing:  Videos Lead to Higher Search Engine Rankings Online videos are more easily ranked in the search engines if they are optimized correctly. This means your video can come up in a search with keywords related to your business even if your company website doesn't. In order to have your videos ranked higher in search engine results, it's important to be able to label and describe them. If you use a compelling title and description with the appropriate keywords, your videos can be SEO-optimized easily.
Use Video Marketing:  Visitors Stay Longer on Your Website Visitors, on average, stay at least a few minutes longer when visiting websites with videos. This is because videos pique their interest, so they are likely to watch it all the way through if the information is something they are interested in. This is why having multiple videos on your website is ideal because if they like one video, they're likely to move on and watch the other videos as well. Of course, the longer someone stays on your site, the larger the chance becomes that they'll make a purchase.
Videos Increase Sales People who watch videos prior to purchasing are more likely to actually make a purchase as opposed to those who didn't see a video. A video can help you explain in more detail about your company, product, or service, which is exactly what viewers are looking for when they view them. Many people choose to do business with a company when they have as much information about the product or service as possible. In addition, they make these purchase decisions with more confidence, which leads to more referrals as well as repeat purchases if applicable.
Here is a sample of a video that is directly related to your industry.  Find out how video marketing can help you generate more leads and close more sales today. 
Use Yoga Video Commercials to build leads and convert prospects and leads to long-term customers.  Get the facts today.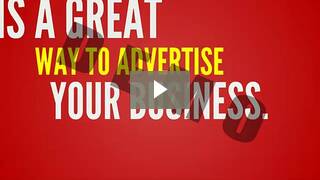 If you are interested in adding a different intro/logo or spin to this video, visit our video store or contact us today.  The video store contains a sample of many different kinds of videos.  We can create a custom video for less than you think.
We offer many video editing options.
12 eye catching segments
28 local business commercials
4 animations
7  live actors and voice-over choices
All intros, logos and ending part of each video can be edited
Custom videos can be created for your business
And much much more
The intro would also of course be using images most related to your business or you can provide us with whatever images you want. We'll be able to insert your business information and logo into the videos to customize each video to make this your own.
If you're interested in adding your own Intro/Outro segment that displays YOUR business information and logo. This is a great way to save money on a video you could easily have customized and uniquely made for your business. Your new customized video would also not have our branding on it. If you wish to REMOVE our branding, please contact us directly. You'll be able to download the same video but without our watermark or logo.